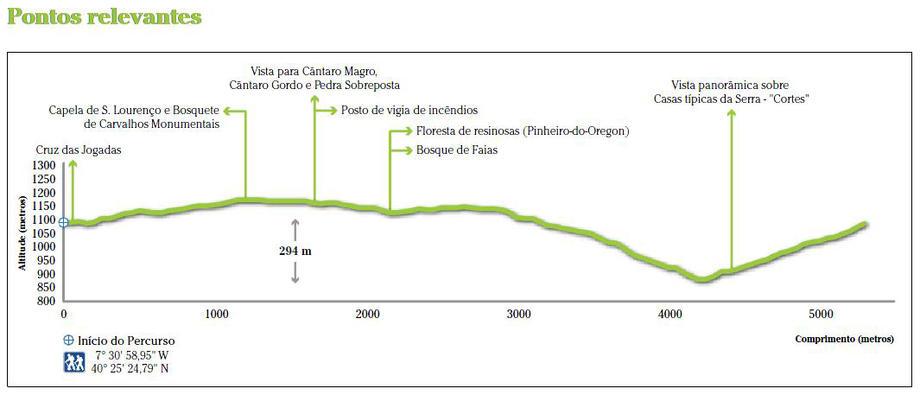 Starting point: with the Cruz das Jugadas – leaving Manteigas, move toward the Penhas Douradas through EN 232; take the intersection to Covão da Ponte until you find the sign "PR13 – Beech Route (Rota das Faias)".
The Beech Route enables the discovery of something new and exciting at each moment, from splendid landscapes to glowing vegetation that along with agriculture and grazing provides a perfect ride for those who wants to know the mountain, its costumes and people.
More than a pedestrian trail, the Beech Route is a sensitive experience, where the scents of rosemary, wild mint, lavender and thyme, blends with magnificent paintings that surround the eye of the beholder.
Its denomination comes from the fact that this route dives inside a dense Beech forest, planted by the Forest Services of Manteigas in the beginning of the twentieth century.
Besides this specie, there's also the Chestnut, the Broom, the Douglas-fir tree and the imposing monumental Oaks that surround the "Capela de São Lourenço" (St. Lawrence Chapel), a place of pagan reminiscences, related to the worship of trees and the sun – in the summer solstice, who is in Manteigas sees the sun rise over São Lourenço (St. Lawrence).
In the natural landscape stands the Zêzere Glaciar Valley, forming a "U", the Torre (the Tower), the Cântaro Magro (the Thin Jug), Cântaro Gordo (the Fat Jug) and the Penhas Douradas (Golden Rocks).
On the ridge of the "Lomba das Cancelas" (Bump Gates), which limits the Beira Alta from the Beira Baixa, you can find the "Cabeço da Azinheira" (Holm-oak Head), which offers a panoramic view of the accumulation of mountains that extends to Spain.
The contact with the rural and grazing life is present all throughout the trail, once that trail is the same one that the shepherds use to lead their cattle to the grazing places, allowing eventual interaction with whom travels along the Route.
The forest stands, the woods and the present water lines, provide a diversity of wildlife. The highlights of the mammals are the fox, the weasel, the Beech Marten or the boar. In birds, there are the common kestrel, the howl and the raven. The reptiles are represented by the snub-nosed viper, the Large Psammodromus or the Ocellated Lizard.